GBS Class 11 Entrance Result 2079
The school announced the result of the GBS entrance result 2079 on the 19th of Shrawan 2079. There are many students who appeared in the exam from different parts of Nepal. The exam was scheduled for the 18th of Shrawan. The main advertisement published after few days after the result was published date.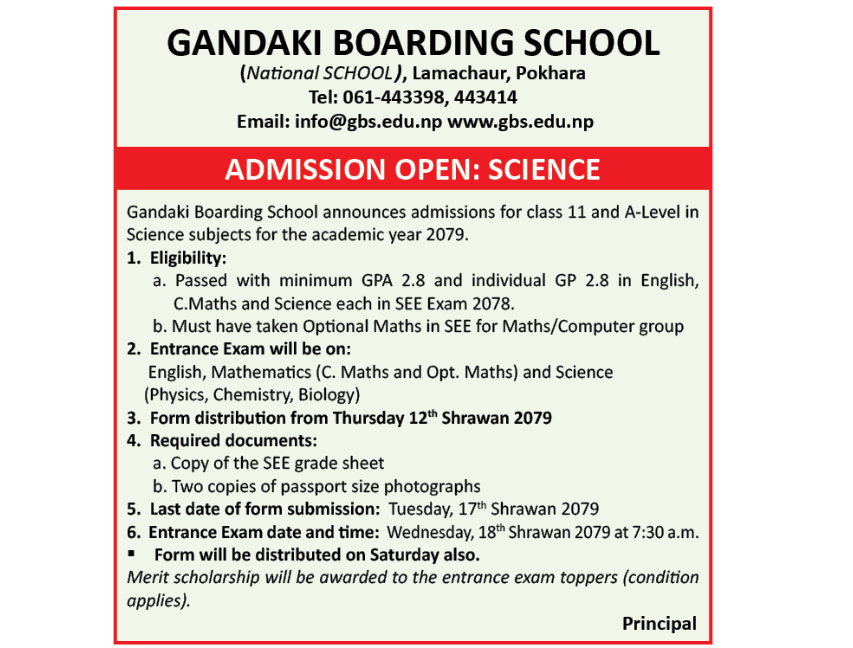 GBS Entrance Details:
The main exam started exactly on 7:30 am on 18th Shrawan 2079. There were four main subjects in the question paper ( Physics, Chemistry, Biology, English, and Maths). Each subject is of Science was of 20 marks ie. Physics, Chemistry, and Biology. English was 20 marks and Mathematics was 40 marks. The time was of 2 hours. All the questions were of MCQ (Multiple Choice Questions).
The school has 4 sections and each section is of 42 students. so the total number of students to be selected is 42×4=168 altogether. There were nearly 600 candidates who applied for the 168 vacant seats this year. Among them, only a few were lucky to get selected. As we know that every entrance examination is tough for students. They have to work hard in order to get their seat. Another challenge was to attend the entrance exam into another college on the same day.
The result of the GBS Class 11 Entrance was successfully published on the 19th of Shrawan, 2079. The result announced the main and waiting list and the list goes like this.
Class-11-Entrance-Exam-Result-2079-website (1)